The range of NatrixLab anti-age tests investigates cellular ageing, in particular cell oxidation stress, and also specific biomarkers to trace a cell ageing profile.
Anti Aging Profile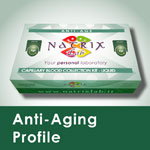 The "Anti-Aging Profile" is a global balance of oxidation stress, i.e. an evaluation of the balance between production of free radicals and antioxidant power.
Find out more
Cellular Aging Factors
The "Cellular Aging Factors" determine the cell aging profile by means of analysing specific biomarkers, which assess the state of four key processes in the organism: methylation, inflammation, glycation and oxidation.
Find out more