What is it and what is it used for?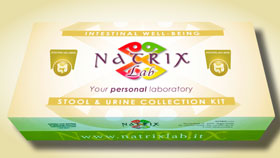 Intestinal disorders are now a social problem that affects more than 70% of the population.
Modern diet promotes imbalance and inflammation to the detriment of the intestine, because of our excessive intake of refined carbohydrates, as opposed to foods rich in fibre. Furthermore, with the increased intake of prepacked foods and refined industrial products, the situation can only worsen.
Our lifestyle, with hastily eaten meals, at irregular hours while trying to juggle with all our everyday problems has an enormous effect on the health of our intestine.
In Flora Scan by NatrixLab is a complete test that is useful to evaluate the microbiota, any inflammation in the intestine, digestive capacity and intestinal permeability.
You can request the complete profile or just certain parameters, i.e.:
Dysbio check: to evaluate the balance in intestinal microbiota by analysing the metabolites produced by the bacterial flora: indacan and skatole, in a urine sample.
Pro-flora check: a microbiological analysis to identify microorganisms forming the bacterial flora in the intestine.
Evaluation of Lactobacillus spp, Bifid bacterium spp, Escherichia coli, Enterococcus spp, Group PMP (Proteus spp, Morganella spp, Providencia spp), Streptococcus spp, Group KES (Klebsiella spp, Enterobacter spp, Serratia spp) on stool samples.
Patho flora check: microbiological analysis to identify potentially pathogenic microorganisms.
Evaluation of Candida spp, Campylobacter spp, Shigella spp, Salmonella spp, Clostridium difficile, Yersinia enterocolitis on stool samples.
Inflammation check: evaluation of faecal calprotectin; a high presence is found in people suffering from chronic inflammatory pathologies.
Permeability check: evaluation of a1-antitripsine on stool samples. Correct intestinal permeability prevents food intolerances and nutritional deficiencies arising. Intestinal permeability is compromised in people suffering from intestinal inflammation.
Digestion check: in the case of dysbiosis, food intolerance and intestinal inflammation, our digestive apparatus, especially the intestine, is unable to correctly metabolise the food. The Digestion check enables testing the digestion products and intestinal absorption, pancreatic elastase, complete stool exam, concealed blood.
Who should take the test?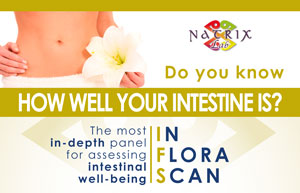 The symptoms indicating a risk of intestinal disorder are varied, and often people spend their lifetime trying to understand what the cause is for their illness.
We recommend this test, which is a complete screening for the health of your intestine, if you have had one or more of these symptoms.
Food intolerance or allergies
Diarrhoea, constipation, irregular bowel movements
Irritable colon and chronic intestinal disorders (Chron's disease, ulcerous rectocolitis, etc.)
Bloated stomach, stomach tension and cramps
Flatulence and aerophagy
Recurring genital infections (candida, cystitis)
Poor nutrient absorption
Difficult digestion, halitosis
Hectic and stressful lifestyle
Unbalanced and unvaried diet, rich in refined foods and fat and poor in fibre
Headache and hemicranias
Chronic tiredness, asthenia, difficulty in concentrating
States of anxiety and mood swings
Dermatological problems
Weakened immune system
Antibiotic/pharmacological treatments
Where and how to take the test?
The test is performed by analysing a stool and urine sample, and can be requested in analysis laboratories, medical centres, health spas and pharmacies that offer NatrixLab diagnosis services.
Preparing for the test: collect the samples at least seven days after the last antibiotic therapy. If required, the urine should be of the first morning.
…and afterwards?
In the case of intestinal problems, and apart from any treatment prescribed by your doctor, remember that diet is the first weapon you have to improve your health.
Both for prevention and to improve intestinal health, it is fundamental that you:
Maintain a healthy, correct diet, correcting any bad habits that cause problems to arise and continue.
Keep the intestinal bacterial flora active and balanced, supplementing your diet with probiotics, prebiotics and phytotherapy products able to improve the intestinal bacterial flora.
Keep your intestine free, encouraging correct passage and preventing the build-up of waste.
A correct diet will reduce the symptoms, reduce inflammation, improve digestive processes and absorption.
In turn, reduced intestinal inflammation improves permeability, with reduced risk of developing food intolerances (caused by an incomplete action by the intestinal barrier) or helps improve any intolerances you may already have.
Repeating the test
If the result is positive, we recommend repeating the test after 3-4 months, when you have finished the treatment using supplements and a correct diet. To monitor treatment or a pathology, we recommend repeating the test according to your doctor's instructions.
Related tests
Related tests
Food Intolerance Test
Gluten Sensitivity Test
Hormonal Profiles
Bibliography
Yang Y, Jobin C. Microbial imbalance and intestinal pathologies: connections and contributions. Dis Model Mech. 2014 Oct; 7(10):1131-1142.
Linskens RK, Huijsdens XW, Savelkoul PH, et al. The bacterial flora in inflammatory bowel disease: current insights in pathogenesis and the influence of antibiotics and probiotics. Scand J Gastroenterol Suppl 2001;234:29-40.
Hiratsuka C, Sano M, Fukuwatari T, Shibata K. Time-dependent effects of L-tryptophan administration on urinary excretion of L-tryptophan metabolites. J Nutr Sci Vitaminol (Tokyo). 2014;60(4):255-60.
Theede K, Kiszka-Kanowitz M, Nordgaard-Lassen I, Nielsen AM. "Faecal calprotectin is a useful biomarker for intestinal inflammation". Ugeskr Laeger. 2014 Sep 8;176(37).
Aidy SE, van den Bogert B, Kleerebezem M. The small intestine microbiota, nutritional modulation and relevance for health. Curr Opin Biotechnol. 2014 Oct 7;32C:14-20.
Mearin F, Rey E, Balboa A. Motility and functional gastrointestinal disorders Gastroenterol Hepatol. 2014 Sep;37 Suppl 3:3-13.
Rodriguez-Otero P, Porcher R, Peffault de Latour R, Contreras M, Bouhnik Y, Xhaard A, Andreoli A, Ribaud P, Kapel N, Janin A, Socié G, Robin M. Fecal calprotectin and alpha-1 antitrypsin predict severity and response to corticosteroids in gastrointestinal graft-versus-host disease. Blood. 2012 Jun 14;119(24):5909-17.