What is it and what is it used for?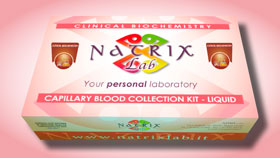 The Zona Plus Test enables evaluating how our physiological state differs from that state, called Zone, where the hormones controlled by our diet are maintained within the physiological values, therefore determining an excellent state of health.
This test involves analysing the markers involved in regulating and controlling two fundamental hormones: Insulin and Eicosanoids, the latter being involved in regulating inflammatory processes (whose synthesis is stimulated respectively by the omega-3 fatty acids for the anti-inflammatory tract, and omega-6 for the pro-inflammatory tract).
According to the American biochemist Barry Sears, who conceived and promoted the zone diet, these tests are the most effective method to evaluate the level of balance.
In particular:
The right balance between the two families of fatty acids, generally highly unbalanced in favour of omega-6, is fundamental to maintain or reinstate a general anti-inflammatory state.
The evaluation of the plasmatic concentration of insulin and glycaemia, which regulates its secretion, is fundamental to understand our organism's capacity to metabolise sugar.
Insulin and glycaemia levels that are within the physiological ranges enable guaranteeing the right intake of sugar to the organs, therefore reducing the build-up of excess sugar in the form of fat.
Who should take the test?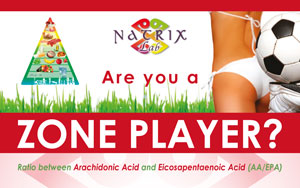 You should take this test if:
You intend starting a "Zone" lifestyle, and want to evaluate how these parameters improve over time.
You are following a zone diet, and you want to monitor these ratios to see whether supplements of omega-3 improve and reinstate the balance between arachidonic acid and eicosapentaenoic acid.
You want to prevent inflammatory reactions and diabetes mellitus type II.
You are pregnant and want the right intake of nutrients without putting on too much weight, and also to reduce the risk of gestational diabetes. The test can also be useful while breastfeeding, to monitor the parameters that enable you to recover your ideal weight and control the fundamental values to ensure the right nutrient intake to the baby.
Where and how to take the test?
The test involves analysing a blood sample, and can be requested in analysis laboratories, medical centres, health spas and pharmacies that offer NatrixLab diagnosis services.
Preparing for the exam: fast for at least 8 hours before the sample is taken.
…and afterwards?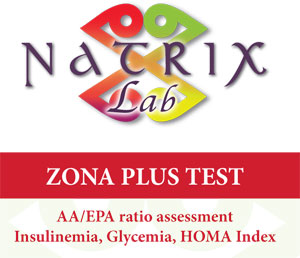 If the test reveals any imbalance, the only effective treatment is to rebalance your diet and take phytotherapy supplements where needed.
It is always advisable to consult a specialised nutritionist to evaluate the best strategy.
Repeating the test
We recommend repeating the test after 3-4 months, the time needed to effectively incorporate and assimilate the omega-3 added to your diet. In the case of monitoring therapy or a pathology, you should repeat the test according to your doctor's instructions.

Related tests
Related tests
Cardio Wellness Test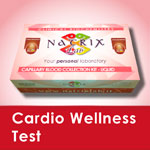 The "Cardio Wellness Test" is an indicator of the state of health of your cardiocirculatory system, and involves evaluating 12 parameters of the health of your heart, with integrations according to the latest indications from scientific research.
Find out more
Hormonal Profiles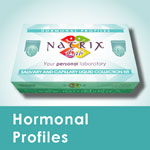 The "Hormonal Profiles" provide fundamental information to identify any imbalances and to give pinpointed advice: food, nutritional-pharmaceutical, physical exercise, sleep quality and general wellbeing.
Find out more
Bibliography
Sears B. La zona omega 3 RX Sperling e Kupfer Editori, 2002.
Cremonezzi D.C., Silva R.A., Dìaz M.P., Valentich M.A., Eynard A.R.: Dietary polyunsaturated fatty acids (PUFA) differentially modulate melamine-induced pre and neoplastic urothelial proliferation and apoptosis in mice. Prostaglandin Leukot. Essent. Fatty Acids, 64(3), 151-159 (2001).
Darghosian L, Free M, Li J, Gebretsadik T, Bian A, Shintani A, McBride BF, Solus J, Milne G, Crossley GH, Thompson D, Vidaillet H, Okafor H, Darbar D, Murray KT, Stein CM. Effect of omega-three polyunsaturated fatty acids on inflammation, oxidative stress, and recurrence of atrial fibrillation. Am J Cardiol. 2015 Jan 15;115(2):196-201. doi: 10.1016/j.amjcard.2014.10.022. Epub 2014 Oct 29.
Lu X, Ding X, Jing L. Effect of Mechanism of Action of Different omega-6/omega-3 Polyunsaturated Fatty Acids Ratio on the Growth of Endometrial Carcinoma Mice. Cell Biochem Biophys. 2014 Dec 23.
Johnston CS, Tjonn SL, Swan PD, White A, Sears B. Low-carbohydrate, high-protein diets that restrict potassium-rich fruits and vegetables promote calciuria. Osteoporos Int. 2006 Dec;17(12):1820-1. Epub 2006 Sep 26.